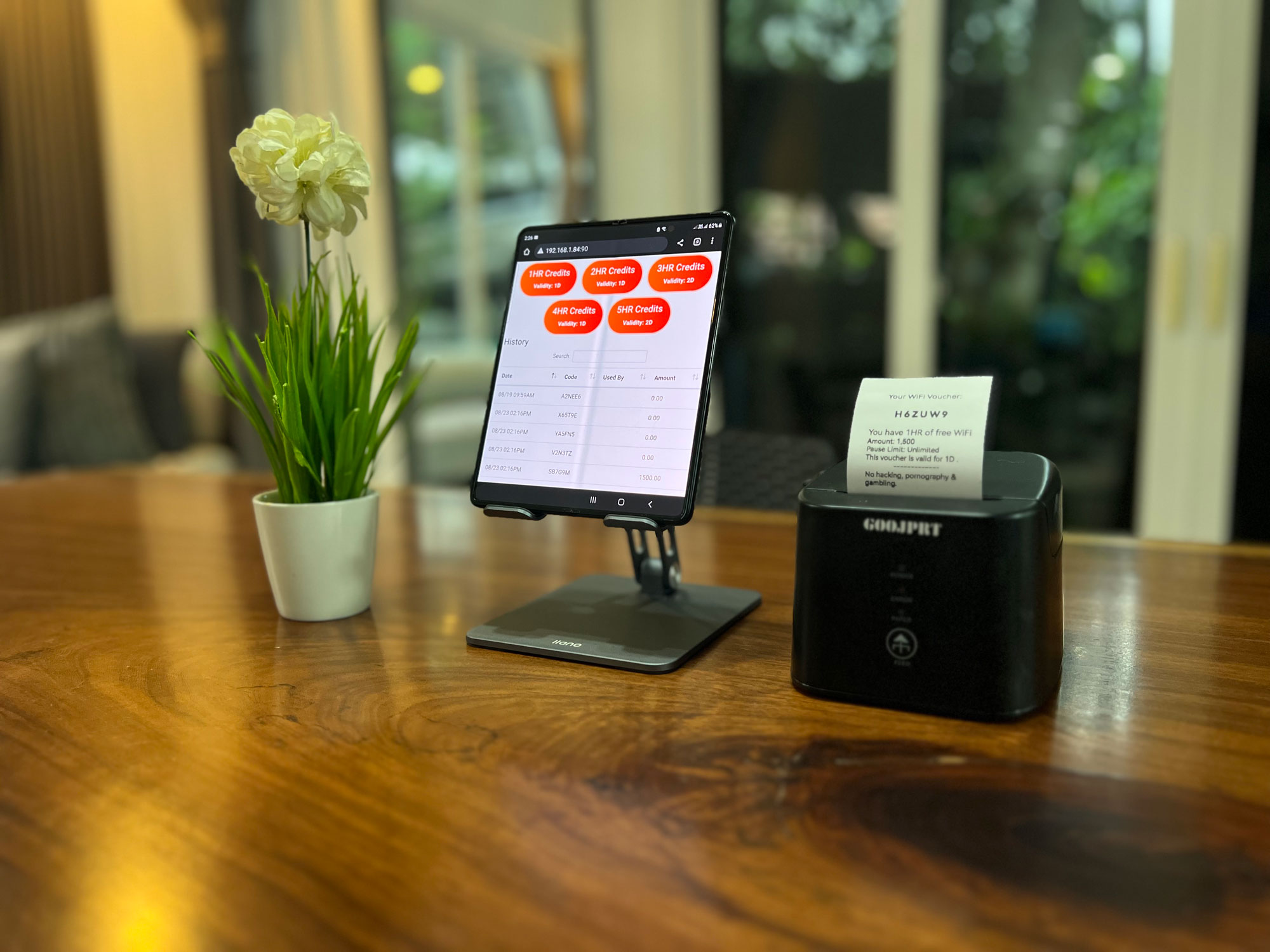 Introducing Our Innovative Solution:
EZ WiFi Voucher Code Generator!
🔥 Unleash the Power of Seamless Connectivity 🔥
Are you ready to take your customer experience to the next level? Say hello to our brand-new WiFi Voucher Code Generator, the ultimate tool designed to revolutionize the way you provide WiFi access to your customers! Ideal for Hotels, Coffee Shops, Lobbies, Cafeterias, Restaurants, Malls, Shopping Stores, Transportation Terminals and many more.
🌐 Seamless Connectivity: Enhance your customers' experience with hassle-free and lightning-fast WiFi connectivity. Our voucher codes ensure a smooth online experience for all.
🎉 Customizable Codes: Tailor your WiFi access to perfection! Generate unique voucher codes that align with your branding and business identity.
⏱️ Time-Limited Access: Offer flexible access options with time-limited codes. Whether it's a quick coffee break or a lengthy stay, our codes adapt to your customers' needs.
💰 Boost Revenue: Turn your WiFi into an asset! Monetize your service by offering premium access with exclusive voucher codes.
🌟 User-Friendly Interface: Our intuitive platform makes generating and managing voucher codes a breeze, saving you time and effort.
✨ Elevate Customer Satisfaction: Deliver a memorable experience that keeps customers coming back for more. With convenient and reliable WiFi access, you'll stand out from the competition.
Ready to Transform Your WiFi Experience? Join us in shaping the future of connectivity. Embrace the power of WiFi Voucher Code Generator today!
📞 Contact us to learn more and be among the first to unlock the potential of our game-changing solution. Don't miss out on this opportunity to set a new standard for connectivity!
#EZWiFiVoucherCodeGenerator #ConnectivityRevolution #StayConnected #InnovationUnleashed